Copyright © All rights reserved. Made by SCDA Edinburgh District Designed by Walter Hampson




Tuesday : 14:15 to 18:30 (last Orders)

Special Arrangements with Librarians
NOTE = It is not recommended to print the catalogue as it is over 1100 pages
PDF files you need Adobe PDF Reader - Download latest version here
Script Library Catalogue is in MS Excel 2003 format and is 7896 Kb in Size. Our Current catalogue lists over 25,000+ scripts. The catalogue is a work in progress with scripts being added weekly. The stock from the SCDA library in Aberdeen and the SCDA section at the Mitchell Library, Glasgow has been incorporated. This searchable list only includes volumes containing a single play script. If you cannot find what you are looking for, it could be in one of our many collections. Contact us and we will look for you.
The Senior Librarian is Douglas Currie (BEM), assisted by Alison McCallum, Susan Wales, Liz Doyle and Gordon Hastie. All enquires to the Library direct library@scda.org.uk or by e-mail using the contact button on this page
The Nat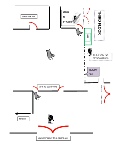 ional Script Library of Scottish Community Drama is located at Summerhall Arts Centre, 1 Summerhall Place, Edinburgh. It is not in the main building but is across the courtyard in Taconic buildingto the right - on the third floor in room 3.6. (Click on map image to download PDF file) The library contains over 25,000 one-act and full-length play scripts – Classic Theatre, Modern Drama, Pantomime, Musicals, Youth Theatre, Out-of-Prints and Unpublished work -all available for loan to SCDA members and to Friends Of The Library. Friends of the Library' pay an annual fee of £12 for an individual and £24 for a club / group. Members or Friends coming to the Library personally may borrow scripts for a period of up to nine weeks for reading purposes. If ordering by post there is an Administration fee of £2 per the first script with 50p per successive scripts and postage costs recovered.
Choosing your next play? Want scripts for a workshop or reading group? Visit us to peruse the SCDA's shelves or download the catalogue via the button on this page. (Please don't try to print it – it is over 1,100 pages). Remember a postal service is also available.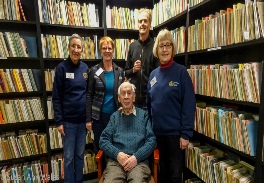 Friends of Library Scheme Application Forms:
Contact Library