Copyright © All rights reserved. Made by SCDA Edinburgh District Designed by Walter Hampson



One Act F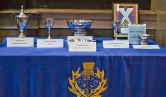 estival
SCDA One-Act Festival is a national competitive festival which Edinburgh has participated in since its inception. There is an Open festival, open to youth and adult groups, and a Youth Festival, confined to teams of under-18s.
This event has three stages. Members participate within their own District with the winning team or teams progressing to their Divisional Festival. The winning two teams from each of the four Divisional Finals go through to the Scottish Final. The winner of the Scottish Final winner proceeds to the British Final. At all levels the performances are reviewed by an independent adjudicator who gives a public assessment and awards the trophies. Festivals at all levels are held at a specific venue and spread over a number of nights.
Although competition forms part of the motivation for our Festivals, non-competitive entries are also welcome. The Festivals are an opportunity for clubs to meet together, socialise and learn both from the adjudicators and from each other.
Scott Salver Competition
If a club is premiering an original play in the festival, the author is eligible to enter the Scott Salver competition with the play, not the performance, being judged by a panel of readers.
Clubs:
Do send (

Susan Wales/SCDA HQ

) details of your next production and copy to HQ as well .

Enter the free poster competition. The only proviso being that the SCDA logo or ref to your membership should be included on the flyer/poster – send to

Scene

Enter the professionally adjudicated full length festival – fee £70 . Contact

bobmags8@hotmail.co.uk

.

Contact

Jazz Hands Scotland

to publicise your shows free of charge with posts on its website, Facebook page and even videos on Youtube. |

www.facebook.com/jazzhandsscotland

|

www.twitter.com/JazzHandsDrama

|

http://jazzhandsdrama.webs.com

Edinburgh clubs: get in touch with Thom Dibdin for his Annals Of The Edinburgh Stage if you have news you'd like to share with a broader audience – about a forthcoming show or any drama matter -

http://thomdibdin.co.uk/

Do you have an anniversary coming up? Why not write a wee piece (350 words) for Scene magazine and send us a photo (300dpi). – send to

Scene

MOST IMPORTANTLY – make sending photos to

Scene

magazine part of the admin for each of your productions . (300dpi).